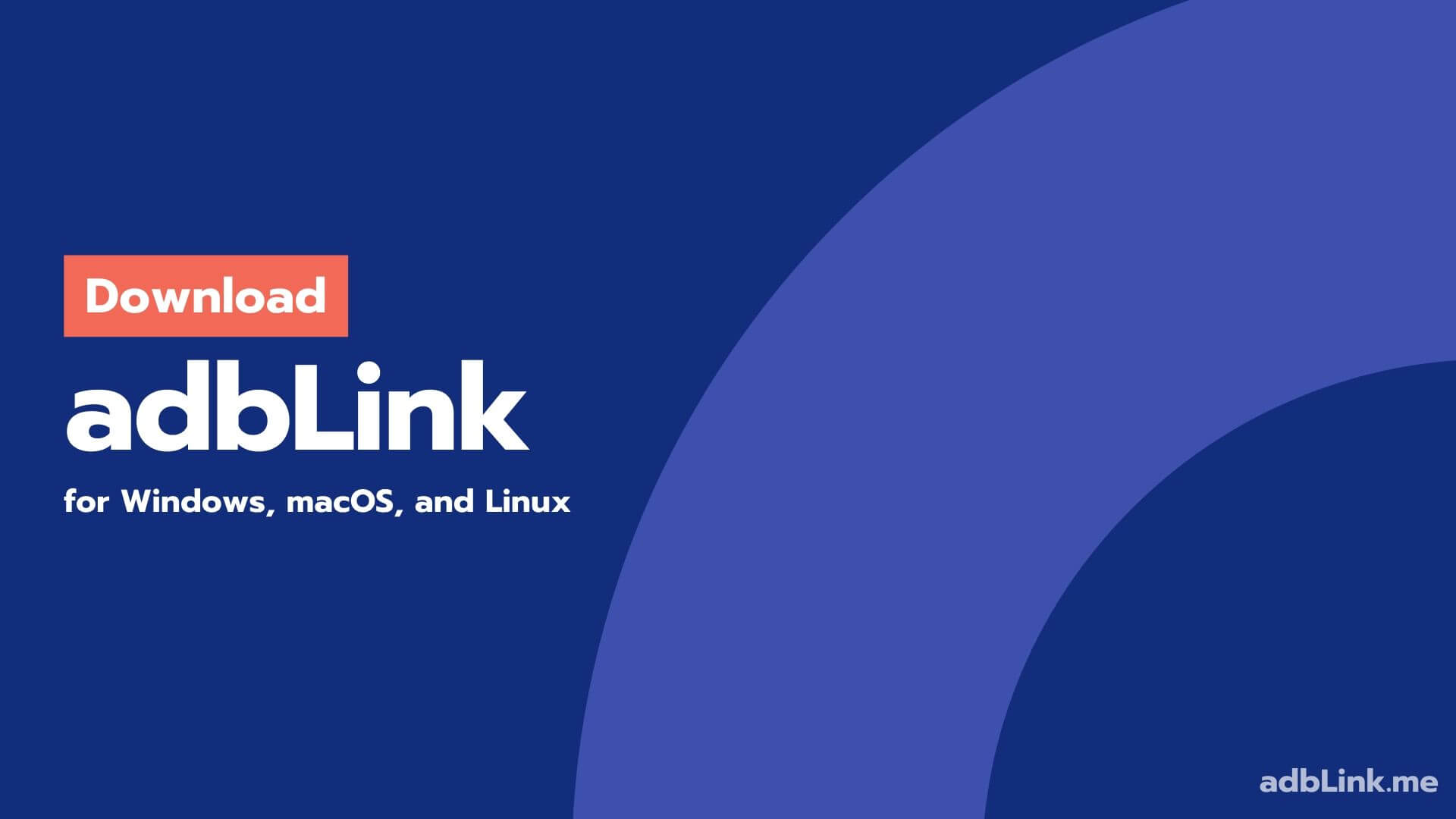 Being an ardent movie buff, you'll nod your head in agreement if I say sideloading free movies APK's on Fire Stick is a kind of Holy Grail pursuit. And wait, what about managing Kodi installations and backing up its data? Doesn't it feel like a ball ache?
But fret not, here we got a fantastic tool for you called adb Link – the very solution for more than of your arduous problems what we just mentioned above. Published by Jacola, adbLink is a freeware application that reliably lets you side-load Android apps on Fire TV, helps you move Kodi data without hitting a snag, and a lot more it has on its arsenal.
Here in this article, we will walk you through a bunch of amazing features adbLink has up its sleeve, and how you can set the application up and running to reap what all it got. So without further ado, let's hit the ground.
What is adblink?
adbLink, previously adbFire, is a lightweight and easy-to-use application that is currently available for Windows, macOS, and Linux. Primarily, it helps to create a virtual link between your Android device and PC that opens up a door for you to do some great stuff. With the help of it, you can perform several Kodi operations remotely on Fire TV.
It allows you to manage Kodi data on Android devices and enables the Kodi partition that offers you the ability to add multiple devices of your choice and lets you manage all from one PC. As already mentioned, you can also create a secure backup, which is quite important for peace of mind and to ensure that you won't run the risks.
However, the only downside we found, and which you may encounter occasionally is the issue with establishing the connection of adb Link with your Android device. And unfortunately, there is no developer support for it, so you got to deal with it yourself.
Features
adbLink has an array of features you'd surely love to explore and some of the notable ones we have elaborated below.
Install Programs without Android SDK:
It's the most commonly used feature of adbLink that effortlessly bypass the security protocols of Amazon Fire Stick and let you sideload Android application through ADB without putting in the hard work. There might be a few traditional methods, but as of now, most of them are either completely wiped out or essentially require Android SDK.
And this is where adbLink comes into rescue and do the needful for you with absolute ease. If you frequently load apps on your Fire Stick, then it's a go-to tool for you since it makes the lengthy and technically challenging modifications easy-peasy.
Managing various Kodi Operations:
For the high-end Kodi users, adb Link can be a boon if they don't sleep on it. From managing multiple Kodi running devices from one PC to cloning Kodi setups to other devices, this amazing application has got everything you'll require to enhance your experience.
With the help of adbLink, you can backup and restore Kodi setups and move its data to external partitions. Whereas, the Edit Cache option hand you the access to adjust Kodi's video settings as per your requirements. And believe us, giving Kodi a custom splash screen is too much fun.
Uninstalling Apps from a Device:
This might not sound something astoundingly amazing, but it has a great use. Reported from official forums and communities, there have been numerous cases where users have had a hard time uninstalling a third-party application.
Such issues could surface due to malfunctioned properties of the app or if the app is downloaded from an unreliable source. But no worries, since adbLink has got your back.
Other miscellaneous features of adb Link
ADB/Fastboot enabled command-line
Busybox for root and non-root
Built-in WIFI/USB remote
Manage devices via USB or IP address
Root-aware File Manager for Android devices
Connect to devices ad hoc
Edit XML and other files on your devices
Custom Cache Support for Kodi
Log File viewer for adbLink/Kodi logs
Hyperlink HTML Help
Supports SPMC – a Kodi version optimized for Android
---
Download AdbLink 4.3 for Windows, macOS, and Linux

adbLink for Windows (Windows 7, 8 and 10)
adbLink for macOS (iOS 10.12 and above)
adbLink for Linux (x86 and x64, Ubuntu GLIBC 2.27)
---
AdbLink 4.3 – Changelog
This changelog is for software version 4.3 of ADB Link which was released on 24/01/2020.
1. Fix for spurious "device unauthorized" when connecting Internal support links reverted to http from https
Previous Version Changelogs:
How to Setup adbLink and Configure it Wirelessly for Amazon Fire TV?
How easy? Almost nearly to the point where you don't even need us to explain it to you. All you got to do is, download the .exe file of adbLink for your appropriate device from the official website and install it right away. The best thing we love about this tool is its uncluttered user interface that makes the navigation a breeze even for a layperson.
But for the sake of easy-going, we have curated a detailed step-by-step guide on how you can transfer an APK file to your Fire Stick. So let's jump onto it.
First and foremost, download and install the adbLink application on your PC.
And then download the APK file which you want to sideload on your TV.
Now open the download location for both APK file and adbLink application, which most likely be Download folder and Local Disk (C:), respectively.
Locate the"adbLink" folder, double click on it, and create a new sub-folder within it naming "APKs" or anything you'd like to call it. And drag and drop the .apk file on that newly created folder.
Next, head over to your Fire Stick or Fire TV to find out its network IP address by navigating through Settings >> Device >> About >> Network and note it down somewhere.
Now you'll be required to go to Settings >> Device >> Developer Options >> ADB Debugging and Select "Apps from Unknown Sources." This permits the user to install non-store applications
Once done, head over to your PC, and open the installed adbLink app and run your eyes through the entire interface for a few seconds.
Go to File >> Preferences and make sure that the "Pull folder" shows the path of the sub-folder, which you've just created under the adbLink main folder. If it's not there, select it and put it there using the Pull folder option and click on the OK button to proceed further.
Now click on "New" to create a new profile for your Fire TV.
Start with giving a general description to your device, on address box enter the IP address of your Fire TV Stick, which you noted down a while ago, and then select the Pull folder which you did in the last step.
Click on "Save," and you'll see the device name under the "Select device" option.
Next, hit on Connect, and now you have established a connection between your adbLink app and Fire TV.
Now, it's time to assign it a job by clicking on "Install APK" and selecting the.APK file, which you have pasted within the subfolder.
It will barely take a minute or so to finish the process, and upon completion, you will see a small pop-up on your Windows notifying that the app has successfully installed.
Once done, hit the Disconnect button, close the adbLink app, and head over to your Fire TV and enjoy the app.
This way, you can install any app on your Fire TV.
How to connect adbLink to other Android TVs using a USB Cable?
The process is almost identical to the way how we did it wirelessly on Fire TV.
Open your Android TV settings, and select About, scroll down to Build, and tap on it seven times, and this will turn on the "Developer Options."
Now in Setting go-to "Preferences" section and Turn USB debugging On and also Network debugging (if available.)
Navigate back to Settings and click on Personal >> Security and turn "Unknown sources" On.
And also, note down your device IP address as well by heading over Settings >> Device >> Network.
Once you have made all the changes mentioned above, connect the TV to your PC using a USB cable, and a dialog box will prompt on the screen to validate the authorization for a valid connection.
Confirm it, and the program will authorize the USB connection by subsequently confirming the connection via IP address as well.
Though rest is self-explanatory, for help, you can refer to the steps we have shown you in the previous section.
F.A.Q
Below are some of the most frequently asked questions with regards to configuring adbLink and its profound uses.
How do I connect adbLink to fire TV?
You can connect it either using an existing IP address or a USB stick.
Is it free to use adbLink?
Yes, the program is absolutely free and doesn't come with any subscription charges.
Why do I see "offline" status?
To fix this issue, you'll be needed to toggle ADB Debugging on/off a few times.